Counseling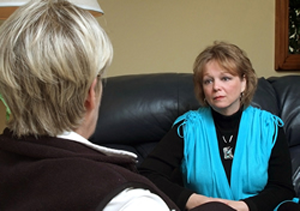 COUNSELING SERVICES AVAILABLE FOR INDIVIDUALS, COUPLES, FAMILIES AND FAMILY-OWNED BUSINESSES—SERVING HENDERSON AND LAS VEGAS
"Problems cannot be solved at the same level of awareness that created them." – Albert Einstein
Darlene's combined years of both business and clinical experience give her a unique and pragmatic, results-oriented approach to counseling. She works from a cognitive-behavioral model (CBT) as she believes the way we think affects the choices we make. Happiness and success do not happen by accident; rather they are the result of hard work and determination. If you are ready to work for new and improved results, contact Darlene today to get started!
Learn more about counseling services:
CREDENTIALS:
Nevada Licensed Marriage & Family Therapist #0772 since 1998
Masters of Science, Counseling, UNLV, Nevada, 1996
Bachelors of Science, Human Resources, Mercer University 1990
Eye Movement Desensitization and Reprocessing (EMDR) Level 2 Trained Therapist since 1997
Clinical Member American Association of Marriage & Family Therapists (AAMFT)
Past Board of Directors, Nevada Association of Marriage & Family Therapists (NAMFT)
Myers-Briggs Type Indicator (MBTI) Certified since 1992
ANSWERS TO FREQUENTLY ASKED QUESTIONS:
NO INSURANCE ACCEPTED
Call for initial brief phone visit to discuss your specific needs.
Hours are Monday through Thursday, 11 to 6.
The first appointment is an "Intake," where you will describe what is happening, why you are seeking treatment, your goals, and determine if you would like to proceed with treatment.
A therapy hour is a 50-minute session.
Inquiries are always welcome.
Individual fee is $160 cash/check or $165 debit/credit.
Couples/Family fee is $190 cash/check or $195 debit/credit.
Telephone sessions available at a regular fee for established cases.
Payment is due at time of service.
Cancellation policy is 24 BUSINESS HOUR notification or full fee is due.
Serving the Henderson, Las Vegas, Boulder City, and surrounding areas.